WEBINAR: How Successful Leaders Proactively Adjust Culture - The Early Pandemic Days to Today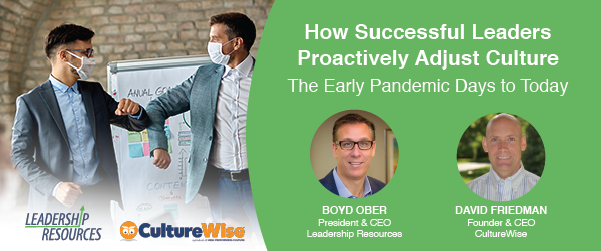 Save Your Spot
Thursday, September 24 at 1pm ET / 12noon CT
Join this webinar and learn:
Insights into the difference between those who are barely surviving and those who are thriving.
An understanding of what companies and leaders have gone through, and what we can learn from successes and struggles.
Actionable tips on applying these learnings to build more resilient companies with strong cultures.
This webinar will be led by:
BOYD OBER, President & CEO. Leadership Resources
DAVID FRIEDMAN, President, CultureWise
Complete the form to save your spot!